Hire or Buy Geodesic Dome Marquees
Ideal for Festivals, Weddings & Creative Events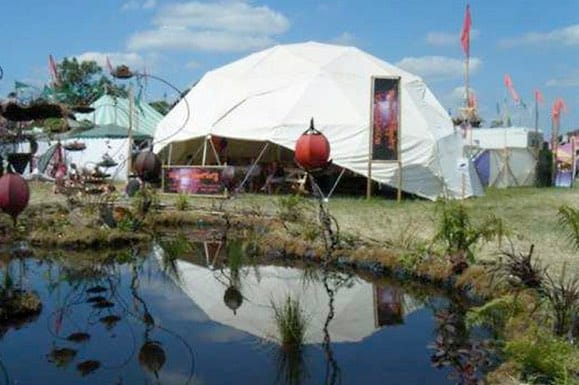 The super spherical space for your event
Geodesic Dome structures for hire or to buy from the UK dome maker. Lotus Domes are the perfect gathering space for events, weddings, festivals and parties.
Dome tents are known to be the most stable marquee for all weather conditions. They allow maximum use of internal space with no internal supports or external guy ropes to present a trip hazard.
We have been supplying our elegant and efficient geodesic dome marquees & structures to the UK for over 10 years – so you are in safe hands.
Make a statement!
Amaze your guests with a whole new setting and a great experience in the round.
Our novel design provides comprehensive and incredibly strong rigging points within the structural hubs. These can be used to support lighting and PA rigs, or potentially suspended floors for larger domes.
Over the last few years, the elegance and efficiency of our geodesic marquees have proved themselves practically within the market, having been used extensively for festivals and events. Retaining low overheads, we are able to offer a far more elegant solution at a competitive rate.
"The dome was everything as promised.  Well built and incredibly easy to assemble and disassemble.  The hub system is fast and efficient and we would highly recommend Lotus Dome's design for anybody looking for their own Geodesic Dome."
Ross Ericson – Rotunda Theatre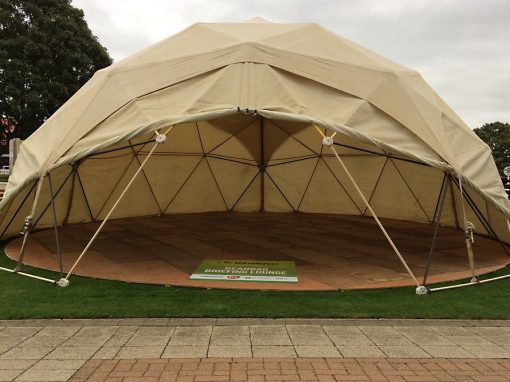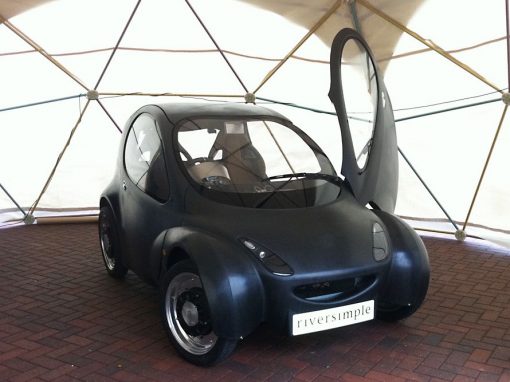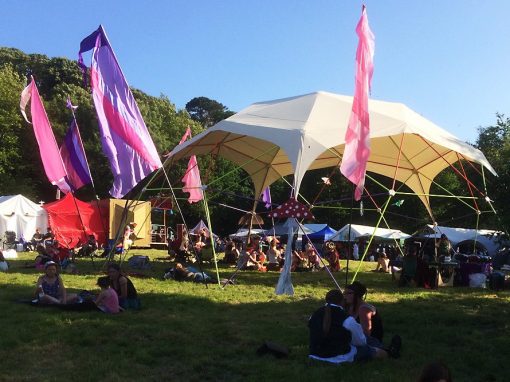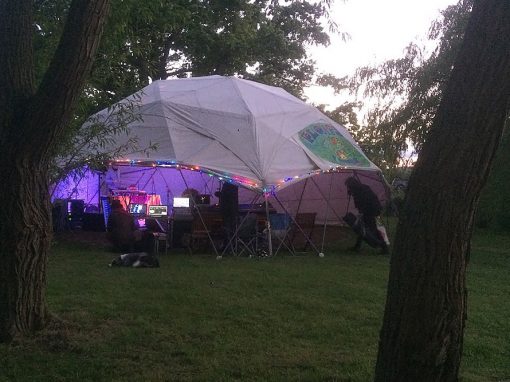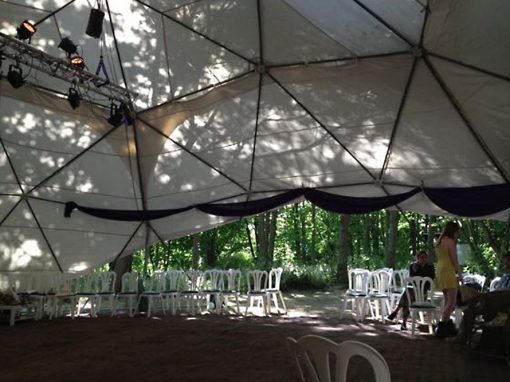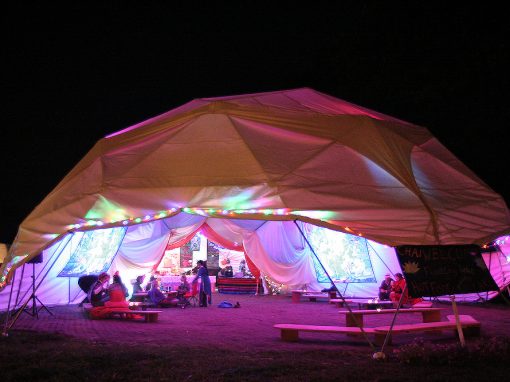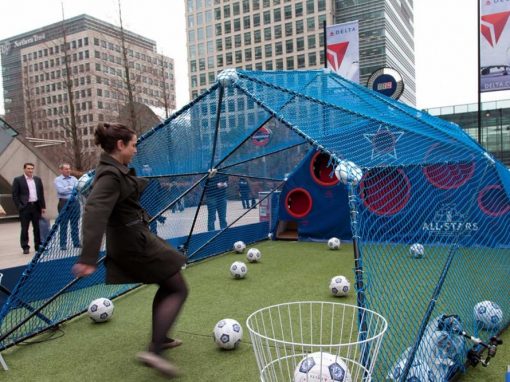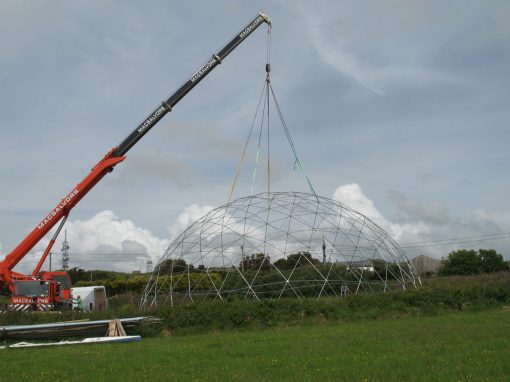 Precision engineered quick build system
The Lotus Domes geodesic dome hub system is designed to make your life easier. Precision machined in our workshop from a tough engineering plastic. The hubs hold the poles at the correct angle and spacing making the build much safer and easier.
Ball-lock pins secure the poles in place without the need for any tools. The hubs contain an embedded lock-nut, ready to accept eye-bolts for hanging lighting rigs, decorations or even trapeze wires. Imagine how this would help you?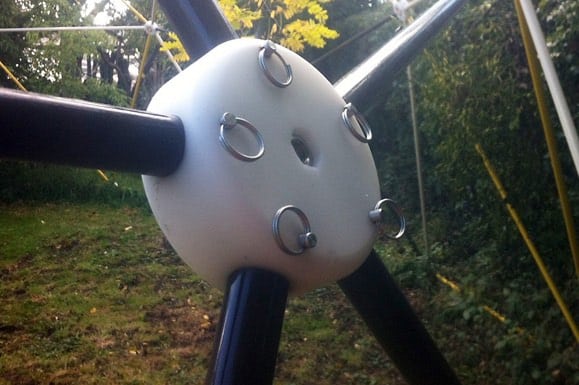 Alan at Lotus Domes has been such a pleasure to work with. I work as a senior manager in the retail service industry and I've been impressed by Alan's attention to detail and willingness to go the extra mile.Nothing was too much trouble and he has been helpful at every stage, from recommending the right type of dome, to construction tips, to a tricky overseas delivery.

Great value, always quick to respond, and delivered well before the deadline. He also put me in touch with useful contacts - absolutely top class from first to last.

Alan and Lotus Domes were incredibly helpful throughout the whole process.  He gave us sound advice and helped us to make the right decisions regarding the dome that was most suited for our purposes.  Everything was ready on schedule and he was very patient and helpful during the training/handover day when we put our dome up for the first time. The dome itself was everything as promised.  Well built and incredibly easy to assemble and disassemble.  The hub system is fast and efficient and we would highly recommend Lotus Dome's design for anybody looking for their own Geodesic Dome.

Wishing to say a massive thank you to Lotus Domes for making a beautiful, beautiful dome cover for the Da-a-Luz dome...the time spent at the workshop was a pleasure ( great radio too!) seeing such craftsmanship and enthusiasm was great, learnt a lot that week, price was very fair for so much work.

The pleasure to see it up at the first festival and keep dry was amazing, can't thank you enough for everything.

We have found the Lotus Domes incredibly useful, flexible, versatile, practical, inspiring and fit for purpose. The domes are very stable, so that meant that even when we have had extremely inclement summer weather, they have provided shelter or ~ where not used, have weathered the storm with no adverse effects. I would definitely use the domes again (and again and again) where resources allow because they provide the ideal space/base for an event/performance or outdoor learning experience.

I would like to take this opportunity to thank Alan for providing such a fabulous community resource.

We just want to say a HUGE thank you for providing the most incredible, beautiful venue for our wedding last week - the dome was so amazing, and everybody loved it. Thanks to Paul and Lizzie for setting up with us, and so sorry we couldn't be there for packing down - hope it all went OK.

Have attached a few photos for you so you can see how beautiful the dome looked. There's talk of doing it all again next year (having a mini-festival on the land), so we'll be in touch!

Just wanted to say thank you again for providing us at KA (Cambridge University - King's Affair Ball) with the dome and the bespoke flooring - as said, we really appreciate all the work put in, the professionalism of you and your team, and just how well the structure served as a replacement for the yurt we used to use. I've passed along your details to the students who will be taking over from Fraser and I, and have advised that they keep the dome seeing as it was so successful this year as a venue (though we may have to consider getting a larger one for next year if they plan their entertainment right, which I'm sure they will!).

We went with Lotus Domes for a geodesic dome for our wedding. I am very happy with every aspect of the service provided and strongly recommend Lotus Domes for a stress-free and personalised service at a very good price. When I called Alan on the phone he very quickly clocked the style of wedding we were going for and tailored everything to match this, throwing in all kinds of extras such as loads of seating and decor. The pricing was very reasonable and Alan was always very friendly. On the day Alan and team were fantastic from start to finish, arriving on time and setting up very speedily and exactly as we had requested. Thanks Lotus Domes!